The sun is starting to come out from behind the clouds, bringing with it the glorious warm days of summer. And with the hotter weather comes a season of swimming and relaxing by the seaside or pool. Of course, when you have children, that also means it's time to dig around for your kids' swimwear and accessories to see what still fits from last year, and what needs replacing. To help you revitalise your little ones' summer essentials, we've highlighted our favourite kids' designer swimwear and accessories...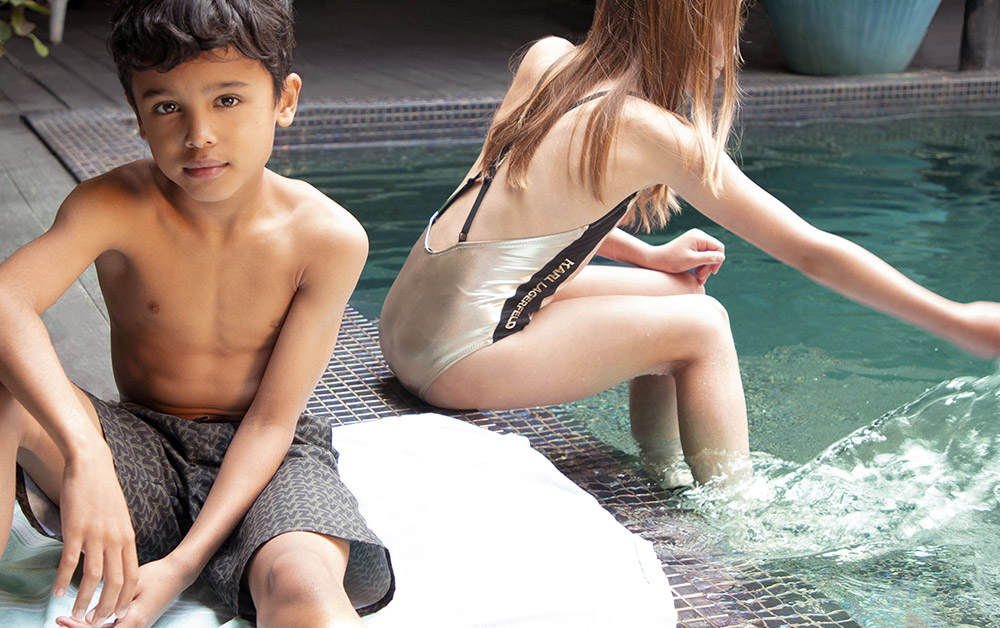 Designer swimwear for girls
If the special little girl in your life has grown out of her swimming costume, why not browse our girls' designer swimwear for some inspiration? This selection offers a host of vibrant options she'll have fun sporting in the sun, including a wide variety of both one-piece and bikini styles. If you love bold designs, the full Billieblush swimwear collection is worth a look.
Our children's designer swimwear also includes protective clothing in clever variations, like this printed anti-UV T-shirt from MARC JACOBS, to keep delicate skin safe while they play under the sun.
Designer swimwear for boys
Are you searching for the perfect pair of trunks for a little boy this summer? Then check out our boys' designer swimwear collection. With a variety of cool patterns and styles from many different brands to choose from, you are sure to find a piece that you and the child wearing it will love. You can also pick up shirts and leggings that will guard his young skin against the sun's harmful rays, like this Aigle anti-UV bathing T-shirt, which is available in sizes 4-14 and offers UPF 40+ protection. It also comes in a timeless colour-block look, while the polyamide blend fabric makes it ideal for watersports.
If you're looking for boys' swimwear shorts, our KENZO KIDS swimwear range is sure to charm you. Featuring numerous swim shorts in a multitude of fun prints and sizes, these timeless pieces will keep him looking stylish all summer long. While you're there, check out our other summer essentials, such as designer T-shirts and Bermuda shorts.
Beachwear accessories for kids
Every parent knows that you need far more than just swimwear for a successful day at the beach. Accessories also play an important role in keeping kids cool (in both senses of the word!) and safe in the sun. In addition to anti-UV clothing, a hat is key in keeping little ones protected from the summer sun's harsh rays. Explore our range of kids' fashion hats as well to find a fun and practical style your child will happily wear while out and about. From bucket hats to baseball caps, in a variety of designs and sizes, you are guaranteed to discover the perfect topper to complete their summer-ready look.
All that's left for us to say is that we hope you, and the children you're shopping for, enjoy a colourful season of playtime under the sun!