Choosing a child's wedding outfit or formal party look is a special treat. And this time of year presents the perfect opportunity to browse a wide selection of glitzy options. Everybody is in the mood to celebrate, which means dressing to impress. Embodying timeless glamour and effortless style, MICHAEL KORS' fashions bring a sense of cool refinement to any event. To help you get a head start on building your little one's special-occasion wardrobe, here's a selection of some of the brand's finest formal attire. Prepare to be dazzled!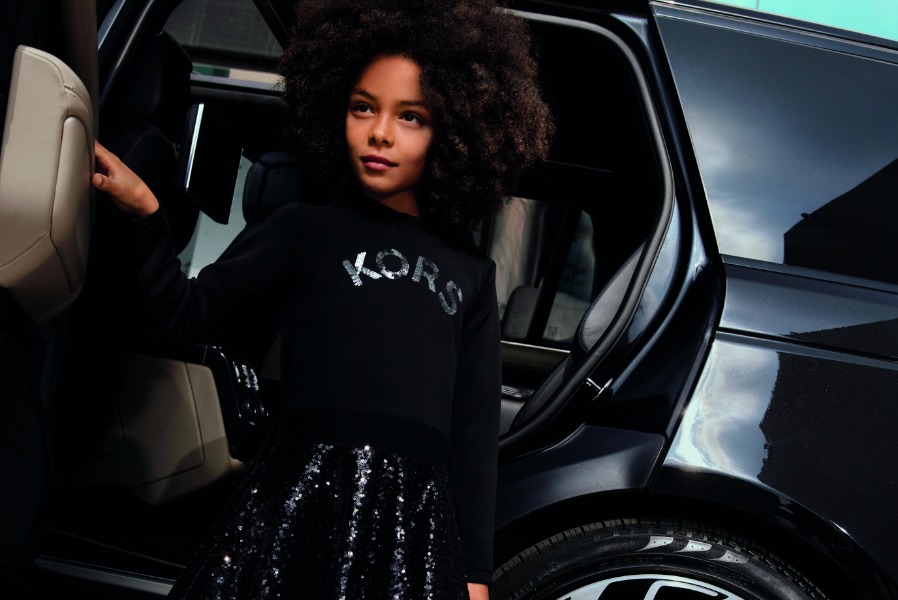 New special-occasion wear by MICHAEL KORS
Finding the perfect look helps a child feel immersed in a special celebration, and autumn/winter at MICHAEL KORS means party outfits are top of the agenda. Formal wear needs to make a statement, and this year, that means sequins, ruffles and pleats. MICHAEL KORS is a brand known for being bold, vibrant, and super-modern – perfect for even the most stylish kids. Here are four standout pieces to whet your appetite.
Shiny sequins from MICHAEL KORS
What little girl doesn't love sequins? All those shiny sparkles are sure to get her into party mode. This short-sleeved sequinned dress is heaven – and because it's available in a range of sizes, teenagers will love it too. Whether they wear the dark-red, black or gold-yellow version, they're guaranteed to shine all night long. The MK medallion at the hem is another elegant touch. The round neck, back zip, and loose-shift fit make it as comfortable as it is classic.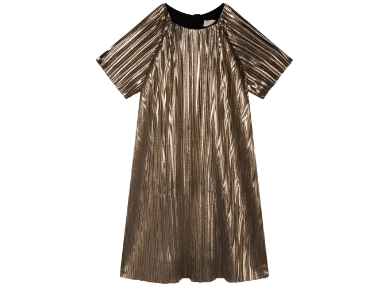 Party pleats
For a party dress that will be a firm favourite, try this MICHAEL KORS pleated dress. It's eye-catching, shiny, and full of festive fun. Little girls will love the gold-yellow colour, while the flared cut will be a big hit with older girls. This piece is easy to dress up or down, and as it's completely on-trend, it's more than ready to rock any formal gathering.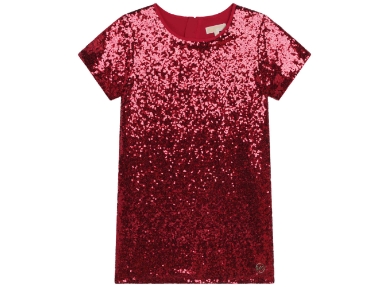 Rejoice with ruffles
Ceremony outfits should attract attention, so a MICHAEL KORS ruffled dress fits the bill beautifully. The name of the game here is flouncing. Not only does this dress have long balloon sleeves, but they're transparent as well! The fabric is in classic black, and the dress features a leopard pattern enhanced with shiny thread – all the better for reflecting those party lights. This little number is the perfect party piece.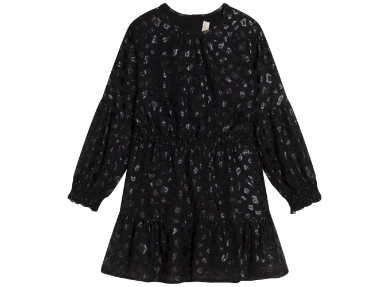 Twice as nice
Why settle for one material when you can have two? Here's a bi-material sequinned dress from MICHAEL KORS they'll adore. No matter where the celebration is, longer sleeves keep them cosy and comfortable. The top features a classic, round-necked black jumper embossed with a sparkly KORS logo, while the sequinned skirt has soft pleats for extra twirl power.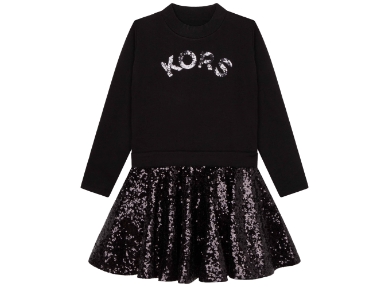 What do all of these ceremony outfits have in common? Luxury and flair. Whichever one you choose, you know they'll feel utterly special, and the memories they'll create in these looks will last a lifetime. Your biggest challenge will be getting them to wear anything else!