We know one of those moments parents look forward to is seeing their baby sporting their first-ever swimsuit. Browsing designer baby swimwear can be so much fun, but as well as looking adorable, your little one needs protection too. Our guide offers lots of tips on what you need to look for in swimwear for babies and toddlers, and how you can make sure your child feels happy in their new swimsuit while looking super-cute in all those photographs you'll look back at for many years to come.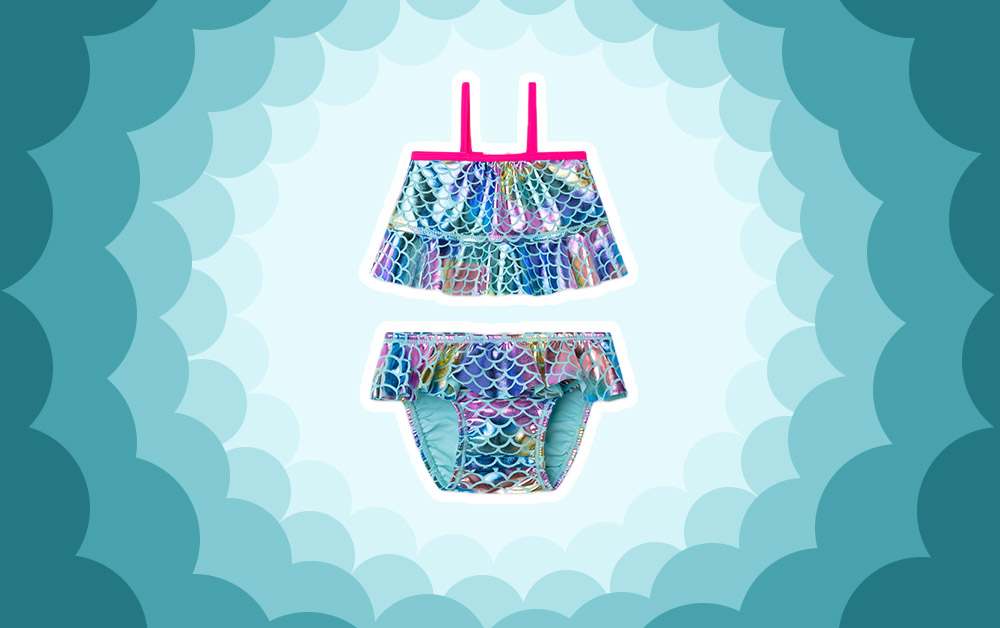 How do I choose baby swimwear?
When it comes to swimwear for babies, it needs to be practical. That means it should be easy to put on and comfortable to wear. No child – or their parent – likes a lot of fuss and bother. And you don't want visits to the beach or pool to be unpleasant for either of you. Choosing swimwear that's easy to wear, without complicated straps or fastenings, makes everyone's life so much simpler.
Practical and stretchy materials, such as polyamide and elastane, are your friends. Your little one won't want to feel restricted, especially when there are so many new things to experience. The best baby swimwear, such as a KENZO KIDS' one-piece bathing suit, allows for lots of movement and oodles of fun – perfect for all those new adventures.
Which swimwear is best for babies?
First and foremost, you need to make sure your baby's sensitive skin is protected. In addition to staying in the shade as much as possible and wearing high-factor sunscreen, your baby may need swimwear that offers extra UV protection. Pieces such as BOSS's anti-UV swim rash guard are designed to be both protective and stylish.
Whether they're splashing about on the shore or playing in the paddling pool, babies aged 0-18 months will need to wear a reusable or disposable swim nappy, meaning their swimsuit needs to be big enough to fit over it while staying tight enough to keep everything in place. Carrément Beau has a range ofgirls' printed bathing bottoms with an elasticated waist, or if you're looking for baby boy designer swimwear, BOSS and Timberland have bathing suits that are easy to remove and quick to dry.
How can I make my baby more visible?
Pools and beaches can be busy places. So that you can relax, your little one needs to be as visible as possible to stand out in a crowd. Bright colours, bold designs and statement logos will help make your little one easier to spot. For boys, KENZO KIDS has bathing trunks featuring exotic tropical designs. And for your little princess, Billieblush has swimsuits in vibrant shades and fancy illustrations that are bound to make a statement on the sand or poolside.
Now that you know what to look for in designer baby swimwear, why not check out the collections from some of our fabulous brands? With a wide selection of options designed to keep babies feeling and looking amazing, as well as styles to suit every personality, your only problem will be choosing which one to buy.