Billieblush is a relatively new designer label for girls that's synonymous with all things sweet and playful. Since its launch in 2013, it's made quite an impact on the fashion industry's young girls segment, with fans shopping the French brand from all over the globe. Want to know more about who Billieblush is and who makes Billieblush girls' clothing? Keep reading for more details on this fresh young brand.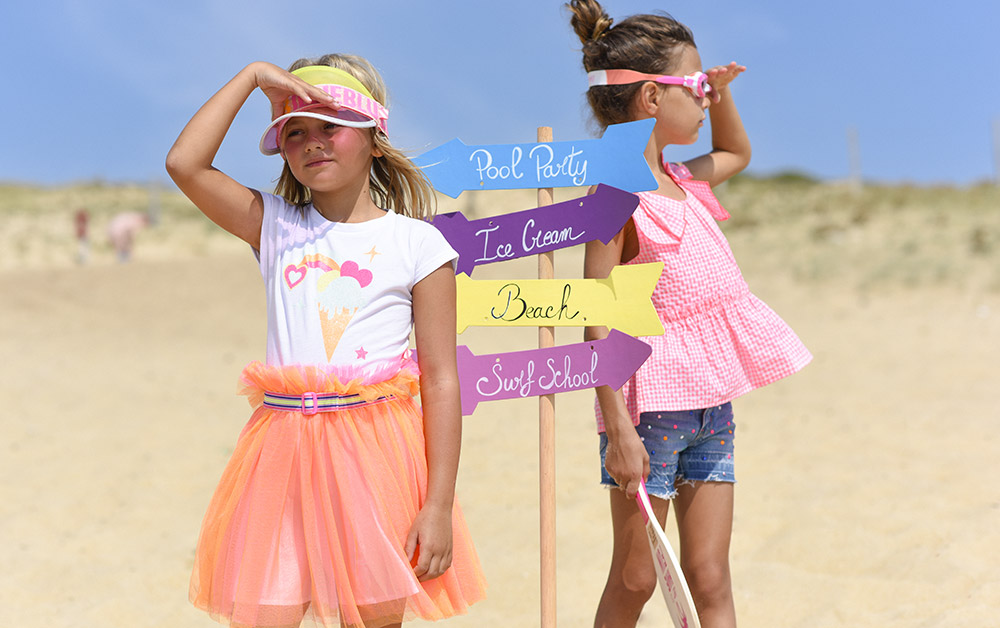 Who is Billieblush?
Wondering who makes Billieblush? It's CWF (Children Worldwide Fashion). For a bit of background, CWF has been marketing fashion houses for over 50 years and has represented children's collections for some of the biggest names in designer and luxury fashion. CWF launched Billieblush in 2013, making it CWF's first in-house brand. The label was designed exclusively for young girls, and the aesthetic was – and continues to be – mischievous, sassy, playful and adventurous, but never too precious. It was also designed to help bridge the gap between high-street and high-end designer offerings.
Billieblush strikes the perfect balance between chic style, high quality and all-important accessibility. Whether she's a wannabe fairy-tale princess or a bold big-city girl, Billieblush girlswear offers your daughter a wide range of gorgeous clothing for every occasion. She'll look and feel like a little trendsetter. In the words of the Billieblush team themselves, "in a permanent search for originality, the collection features innovative techniques such as the use of iridescent glitter, foils or the incredible 3D rainbow." When it comes to the Billieblush girl, the label sees her as a modern princess who lives with the times. Her superpower is to make people smile again, and the clothing conveys this through its 'Good Vibes' DNA.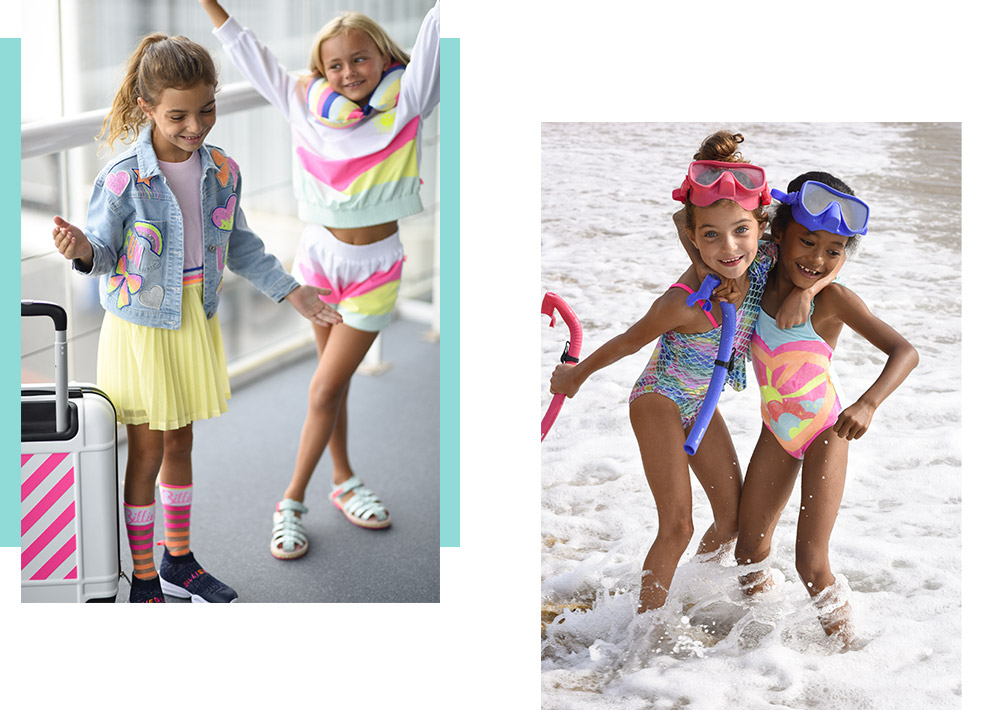 Billieblush girlswear
Every season, Billieblush showcases a themed collection offering everyday separates as well as special occasion looks. One thing's for sure: the brand's hallmarks of pretty tulle, dazzling sequin embellishment and vivid pops of colour are always present, bringing an exuberant feel to every piece. In terms of star products, dresses and raincoats are the bread-and-butter of the brand. From princess-style Billieblush dresses to water-resistant Billieblush raincoats, plus quirky design details such as neon, sequins and ruffles, Billieblush is a statement-making label for little girls.
You'll typically find the Billieblush clothing range contains classic wardrobe staples with fun twists. In line with the brand's mission of being adventurous and accessible, their clothing is designed to be easy-to-wear, yet stylish and never fussy. Discover witty slogan tops, delicious pastel and neon colours, alongside pretty lace and ruffles. Billieblush is a feminine clothing brand that will set your little lady apart from the rest. Fabrics such as tulle, jacquard, satin and velveteen are just some of the luxurious materials you'll find within the range, for pieces that feel as fabulous as they look. Always fashion-forward, the designs blend catwalk influences with real-life wearability that feeds young girls' imaginations.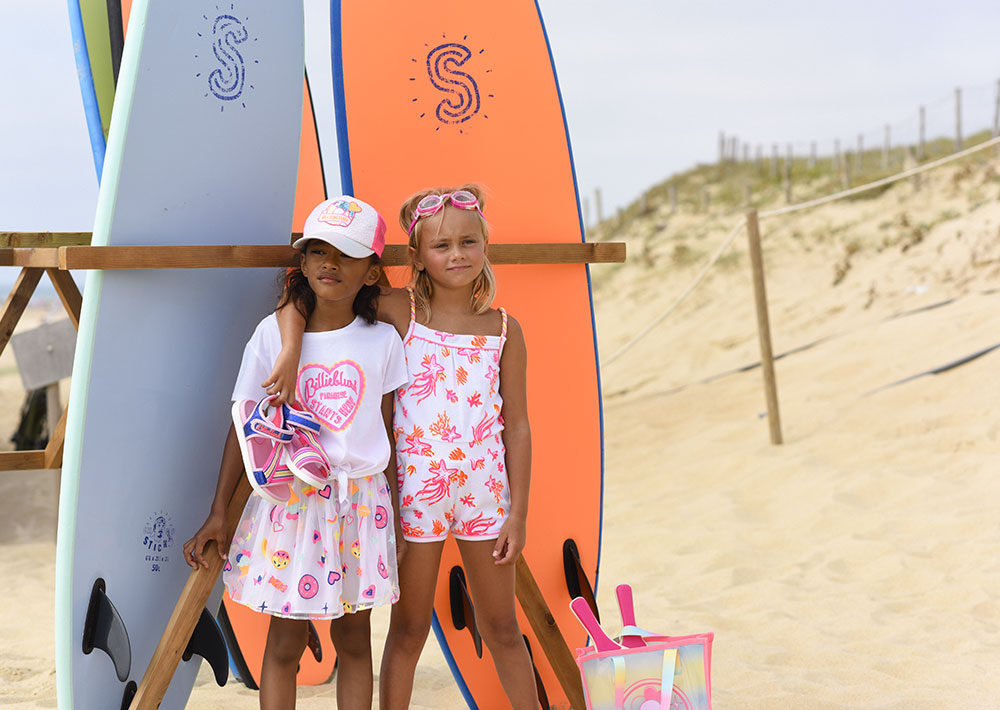 Billieblush signature styles
Signature styles include the 'dual-material' dress, where the top half is a sweatshirt and the bottom half is a flared skirt, typically made from tulle or satin. It's the perfect blend of sporty and sweet that's effortlessly wearable and can be teamed with trainers, sandals or boots.
Another flagship Billieblush piece is the raincoat. You'll find several variations in a choice of bright colours. They all offer handy features such as a water-resistant coating, soft jersey lining and hood, as well as a secure front-zip fastening to keep your little lady dry and comfortable during rainy weather. Layer it over everyday separates or special-occasion pieces when the weather forecast promises rain.
Billieblush clothing is available in sizes 6 months up to 12 years. This brand delights little girls, and the imaginative designs helps transport them to faraway, make-believe lands. It's more than just clothing – it's a lifestyle brand, too.
If you're a fan of Billieblush, you may be interested to know that it has a brother label – Billiebandit. Designed for boys, this brand offers quirky separates with graphic prints, bold colourways and supreme freedom of movement. Each piece is carefully designed and crafted to ensure comfort as well as style. It's perfect for little gents who want to enjoy life's adventures whilst looking like mini trendsetters.