Now that summer is here, what could be cuter than your baby girl in a designer summer dress? Think of those photo opportunities! Choosing baby girl designer dresses is a dream job, and we want you to make the perfect choice for your little princess. To help, we've compiled a list of our top five cutest baby dresses. Whatever your style, you won't be disappointed, so sit back and enjoy browsing.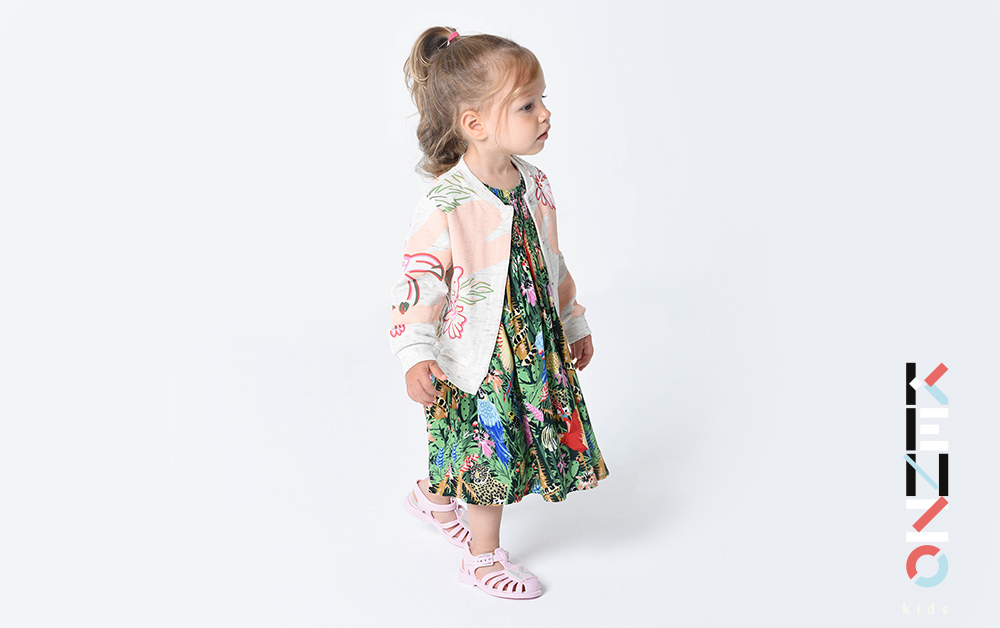 Baby KENZO dress
As cute baby girl dress design goes, it doesn't get much better than a baby KENZO dress. KENZO KIDS designs use florals and exotic prints to be bold and vibrant. Their tropical print dress does not disappoint. Scrumptious ruffled sleeves and an adorable smocked waist make this beauty big on cuteness. In a loose fit with a concealed zip, your little explorer will look and feel fabulous.
Billieblush baby dress
A Billieblush baby dress combines all the best elements. It's cheeky, energetic, sassy and bubbly – just what you want for your baby. This cotton eyelet dress has all that and more. Made in a delicately embroidered fabric with a flounced hem, it's impeccably cut without being too fussy. The round neckline perfectly frames those chubby cheeks, and because it's sleeveless, your little one stays cool as a cucumber all day.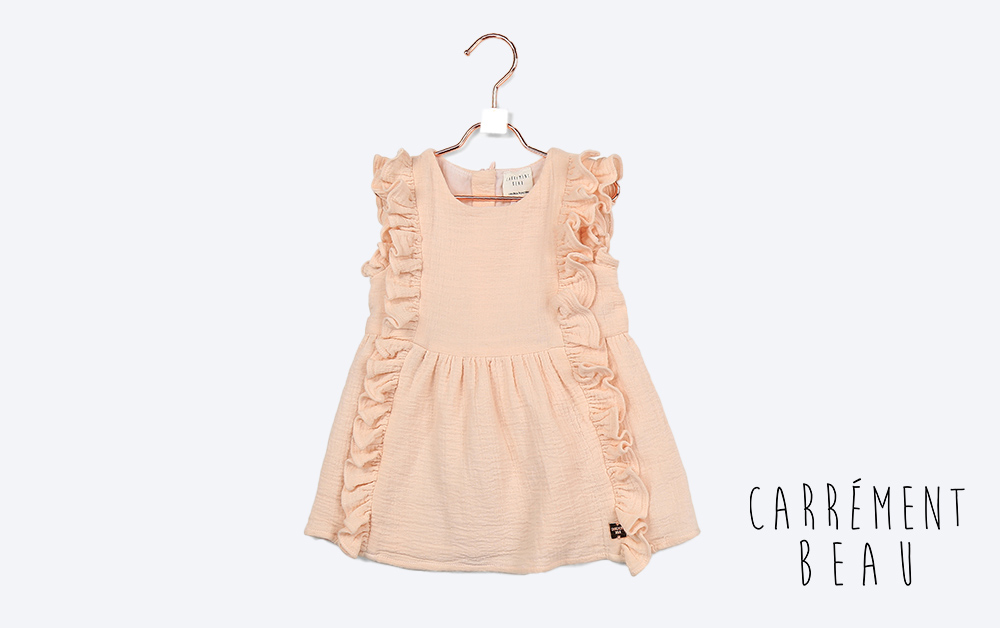 Carrément Beau baby dress
French brand Carrément Beau knows a thing or two about baby girl luxury dresses, and this Broderie Anglaise dress is divine. Embellished with frills on the front and bows at the waist, it's chic, romantic and endearingly retro. Available in white or straw yellow, this dress is stylish yet comfortable. So whether they're having a dreamy day or a fun evening, you can be sure your little one will feel as wonderful as they look.
BOSS baby dress
BOSS kidswear prides itself on its flawless detail and understated style. This pale pink short-sleeved dress is no exception. Ideal for long summer days and made from an organic cotton and elastane blend, there's plenty of room for adventures. This little number is cleverly designed with a round neck and press-stud fastening at the shoulder for easy dressing. Cute frills at the bottom, combined with the iconic BOSS logo in a repeated motif, complete the look.
KARL LAGERFELD baby dress
KARL LAGERFELD KIDS are the Kool kids. And what could be cooler than this KARL LAGERFELD baby dress? Super trendy with its Choupette motif, this dress makes a big statement for your little rock-chick. The ribbed trim with a golden stripe around the armholes, plus the iconic logo, complete the stand-out look. Fun, ironic and playful – who needs more than that?
Now that we've whetted your appetite, why not choose a fabulous baby summer dress design from one of our designer collections? With so many to choose from in a range of styles to fit your baby's personality, we know she'll look as precious as ever. Just don't forget to have that camera ready!